What is Genvers?
Genvers provides job information for various on-site jobs such as construction and civil engineering, transportation and security.Contributing to corporate sales and the futureWe have been operating since 2019 with the motto.Above all, securing "human resources" is important in Genba-type recruitment, and while making efforts and ingenuity to gather users as much as possible, we strive to enhance content and provide accurate and easy-to-understand information, so that we can serve as a bridge between companies and job seekers. We manage media.We will do our best to support the "people" and contribute to the revitalization of the industry as a whole, in terms of the issues of "people", "money" and "things" of companies.
▼ Good employees create sales and the future of the company!
What Genvers wants to offer its customers is not just human resourcesSales obtained through human resources and the future of the companyis.In the construction industry, which is a labor-intensive industry, the low unemployment rate, which is said to be the current full employment, is directly linked to labor shortages, which puts an excessive burden on the core staff and damages the body. Problems that affect business operations are becoming more likely to occur, such as the loss of opportunities that people cannot hear about, and the importance of resolving labor shortages is increasing.

In order to prevent and solve these issues, it is Genvers' hope and goal to lead energetic and cheerful human resources to our customers and obtain great results in company management.
▼ Service introduction of the field-based job information site "Genvers"
This is a job information site specializing in transportation and security, with a focus on construction, construction, and civil engineering.From the marketing research in advance with the opening of the site, especially in the field industry, although it is simple, such as detailed job type × area desired by job seekersA simple and highly specialized search configuration is the bestIt is a site based on the result that it is.By holding down points such as detailed salary information and conditions and qualifications to convey in advance, which cannot be introduced in paper media such as magazines and newspapers that have been mainstream until now, concrete image sharing with photographs that is possible only with web media By doing so, you can convey the flow from application to interview, recruitment, and work as a message to job seekers.
Going forward, we will continue to aim to be a recruiting site that enables better matching between companies and job seekers, including the enhancement of required content.
Popular original service "Sanko Advertising"

"Three-line advertising" is a content that incorporates the opinions of both job seekers who want the job information to be "simple" and companies who want to reproduce the content that not only young people but also active craftsmen are accustomed to. With deep-rooted popularityReliable application recordAre piled up.
Up-stage up-stage (for simultaneous CP)

This is a recruiting site for men who spend more than XNUMX million yen a year on advertising.Currently, special CPs can be posted as a set by applying to Genvers.By making mutual user contact in various situations, it is an opportunity to create a reaction to customers.
URL:https://www.up-stage.info/
Started multilingual support

Utilization of foreign workers

is promoted as a national policy, and is an urgent issue for on-site recruitment in construction and civil engineering.On the other hand, due to the influence of the new corona, the number of technical intern trainees who are struggling to live is increasing, and there are some cases of criminal acts.In order to stabilize the lives of these people and contribute to the maintenance of domestic security, we are supporting other languages ​​at a cost. As of January 2023 Supported languages: Chinese (simplified), Chinese (traditional), English, Indonesian, Mongolian, Burmese (Burmese), Tagalog (Filipino), Thai, Vietnamese, Portuguese , French, Korean, Nepali
▼ Maintain stable customer attraction through promotional activities that emphasize response
Most of the visiting users are in their 20s, who will build the future of Japan, and in their 30s, who are most active.At Genvers, we are working to strengthen the response through various ingenuity and trial and error so that we can easily connect with job seekers who match the companies listed.
Google Ads

At Genvers, Google ads are also delivered. We are striving to strengthen the response centered on genres such as "civil engineering," "construction," "architecture," and "site," centering on words that are difficult to reach with SEO alone.Including other sites

Over 10 years of advertising operation know-how

I am confident in creating a response.
* "Google Ads" is a trademark of Google Inc.
Google work search

Recruitment corner displayed on Google's search surface

"Google Work Search"

Also supports.The exposed surface is increasing.Although it is in the stage of trial and error because it will be posted, the number of publications is steadily increasing.
Information diffusion on twitter

When you submit to Genvers, job information will be posted to a dedicated twitter account at regular intervals during the posting period.We will appeal to potential job seekers by tweeting with hashtags and spreading job information.
(Hashtag example ⇒ #Job in hand #Construction #Civil engineering)
(Account example:North Kanto Saitama)
Job search engine cooperation

Simultaneous posting on the upstage to recruit your company

"Indeed" "Standby" "Job Box"

Delivered to the "paid frame" of job search engines such as.By exposing it widely, the probability of successful recruitment increases!
* If posted from other media, it will not be posted.
* "Indeed" is a trademark of Indeed, "Standby" is a trademark of Standby, and "Job Box" is a trademark of Kakaku.com.
Ad network

Deliver ad network advertisements to users who have seen the job information once, or mainly on the media that users who are likely to be interested in.For example, we are devising ways to raise the level of attention by advertising on networks that deliver advertisements to sites that provide articles to Yahoo.While carefully selecting and delivering effective media,

Encourage users to revisit and recognize media

Therefore, we will continue to challenge various advertisements from time to time.
SEO is also rising!

Depending on the location to search, "Field job" XNUMXrd place "Field job" XNUMXth place "Field job job" XNUMXrd place, etc.

Top display on Google

Has increased. Since it is posted in the same position on Yahoo

(2020-02 ⇒ 2020% compared to 05-240)

The natural inflow from search engines is increasing, and the number of applications is also increasing.
We have 15 years of experience in web media management, so we are confident in SEO.
▼ Characteristics of Genvers
Introducing the features of Genvers.While keeping the rules to a minimum, we are conscious of compliance, and while listening to the voices of customers and users, we try to create something that is more convenient and leads to job search.
① Unlimited manuscript adjustment during the publication period
Some things cannot be done on other sitesManuscripts and images can be changed during the publication periodis.You can also request changes to images from the store management screen.
* Administrator approval is required to reflect the changes.
② You can enter two phone numbers!
Only one can be entered on other sitesTwo phone numbers can be setTherefore, it is possible to use it properly, such as the person in charge and the president, the site and the headquarters.Can the call be answered immediately when it comes in?Can you handle it properly?Is very important, so if you can set the phone number from that point of viewImproved interview rateHelps.
③ New recruitment & pickup delivery is hot!
Newly posted stores are on the site"New arrival corner"For site registrants who match the posting and desired conditions"New mail delivery"Promotes matching with.Also, by using the urgent recruitment option"Pickup delivery"Recommended delivery as.It is highly effective because it delivers information that meets the user's wishes.
④ Free word search
In addition to regular searches at Genvers"Free Word Search"Is also available.The search target is all the text of the recruitment manuscript.Since the user searches for a job by arbitrarily entering the word that interests him, it will be easier to search by entering the manuscript in detail, and the possibility of applying can be increased.
⑤ Follow-up response by recruiting advisors
For customers who wish to receive advice and follow-up on manuscript contents, wording, images, etc.Our advisor supportsIt is also possible to do it.
* Regarding submissions from agents, we will limit our support to data aspects.
* Since the amount that can be handled is limited, we may decline if you are in a hurry. (Paid only / Banner course and above)
⑥ It is possible to set with the up stage!
Among those who have applied now, those who wish are "male recruitment upstage"Genba & men set postedIs also possible.
Focusing on the exchange of night-related and construction-related personnel, the purpose is to get feedback from both sites.
If you use the set posting, it will go through the upstageJob delivery to Indeed's paid slotsWill also be executed
⑦ Brand building through web marketing that prioritizes users
User surveys that apply fieldwork techniques are one of the features of our service.
Professionals who have learned contextual inquiry first come to know Genba.It extracts and optimizes the potential user requirements derived from the behavior observation.

In recent years, it is said that the quality of the usage experience that a website gives to users is an important issue that influences the brand image of advertising clients.
It is no exaggeration to say that the frequency of user site usage is directly related to the success or failure of your web marketing measures.
Clients who see the website where they advertise as a new business method should be considering the impact on the success or failure of the business, not just recruiting.

At Genvers, we are committed to meeting the expectations of such clients.web marketing and brandingBy thoroughly investigating and analyzing user behavior that has a great impact on other sites, latent needs and actual usage problems that even the users themselves, which are difficult to understand on other sites, were not noticed We are working on measures to extract points and build and improve the site.
▼ Reasonable price!
For companies that want to improve cost effectiveness and companies that want to reduce recruiting costs, we have realized reasonable settings even among specialized sites.Depending on the location and plan, it is possible to cut costs by up to 85% (according to our research). Please contact your sales agent for details.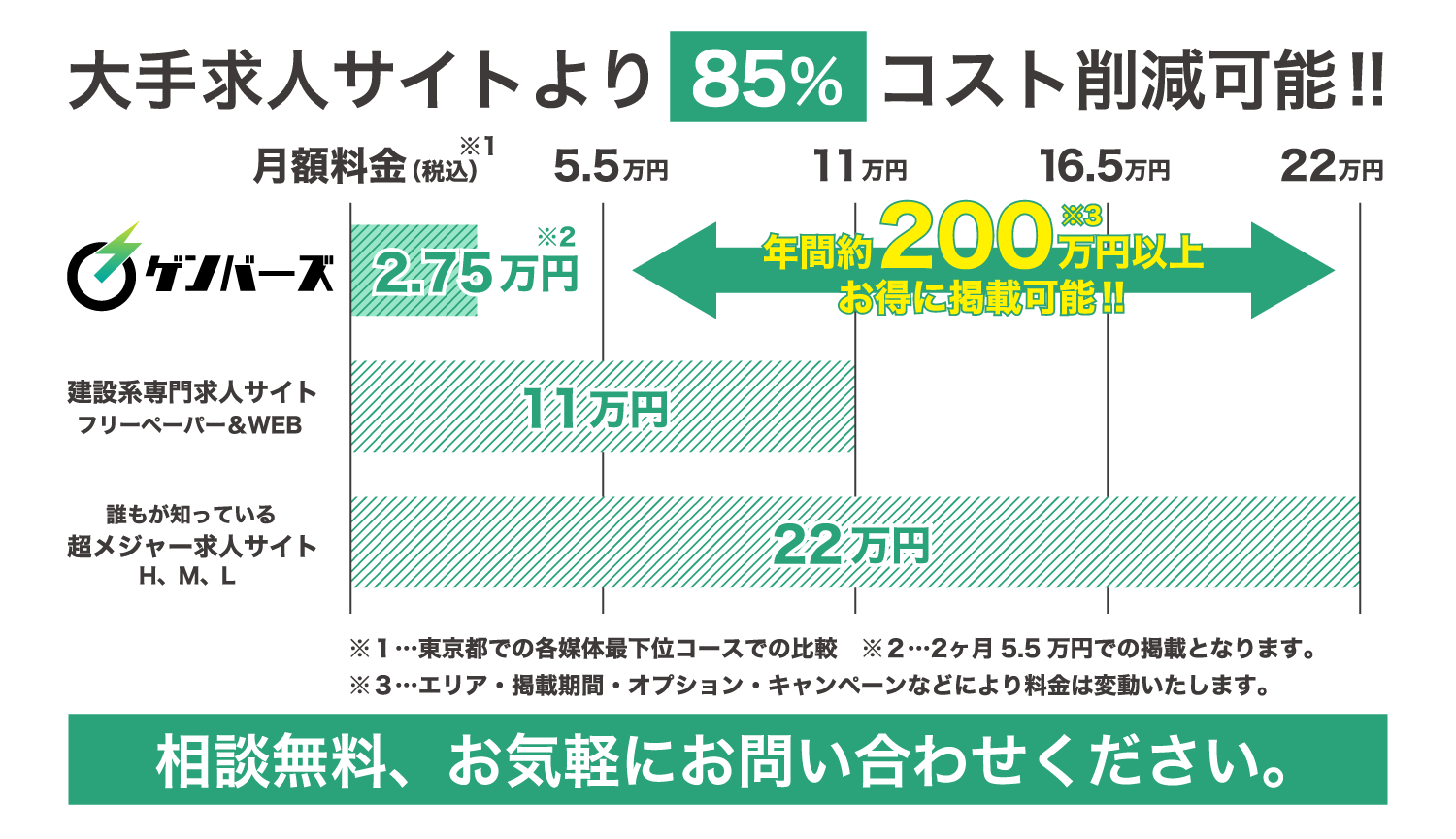 ▼ Handling industry / area / posting plan
We have various plans specializing in construction, construction, civil engineering, transportation drivers, security, maintenance, engineers, and other Genba jobs.
Currently, we are expanding nationwide, mainly in Tokyo and three prefectures, so we are always looking for companies that wish to post job information and agency partners who can cooperate with sales.

Please feel free to contact us if you have any questions or requests for media materials!